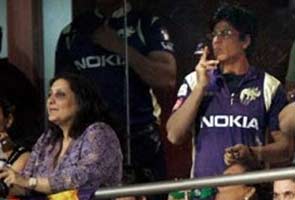 The Rajasthan Police today served summons on superstar Shah Rukh Khan to appear in a Jaipur court on a complaint that he was seen smoking in public. SRK was seen on camera smoking during an IPL match at Jaipur's Sawai Man Singh stadium in April this year.
Just last week, the popular Bollywood actor was issued a five-year ban from entering Mumbai's Wankhede stadium after an alleged scuffle and exchange of words wth stadium staff and officials of the Mumbai Cricket Association (MCA). The Board of Control for Cricket in INdia is still looking into that matter.
SRK was seen smoking on camera during a match between the Kolkata Knight Riders, the IPL team he owns, and the Rajasthan Royals on April 8. A complaint was filed in additional chief judicial magistrate's court on April 9 by a Jaipur resident, Anand Singh Rathore, who alleged that despite a ban on smoking in public, the actor puffed away in front of thousands of cricket fans. He said the actor is idolized by his fans, some even patterning themselves after him and so when Mr Khan is seen lighting up in public, it sends the wrong signal to his young fans.